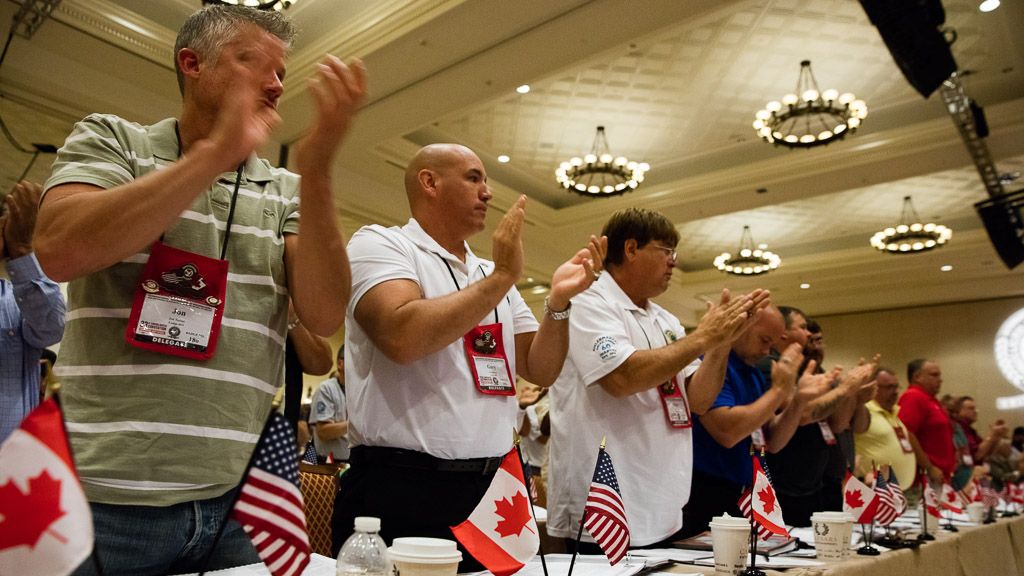 Law Committee wraps up its work
VARIOUS CONVENTION COMMITTEES took the stage to deliver their reports to the delegates on Wednesday, including the Constitution and Law Committee, which wrapped up its work in renewing the International Brotherhood Constitution and resolving the more than 100 resolutions submitted to them.
The Law Committee's pace picked up steam, with little debate in the morning hours. However, as the convention turned its attention to economic issues in the afternoon, delegates rose to voice their views more extensively, and the discussion slowed.
In the only roll call vote of the day, some delegates challenged a provision of Article 33, Salary Adjustments, which allows the Executive Council to increase International officer and staff salaries by up to five percent per year, provided the union is in good financial health. The Law Committee sought to maintain the current language in the constitution permitting the raises.
Delegate Steve Ludwigson (Local 5, Zone 5, Floral Park, New York) submitted an amendment in support of Resolution 14 that would reduce the 5 percent salary adjustment maximum by half, to 2.5 percent.
Those supporting the amendment felt the economic condition of the International union was such that the increase was too high. Supporters of the Law Committee recommendation argued that the five percent increase was only a maximum, and pointed out that in 2012 International officers had taken a voluntary 15 percent pay cut, and International staff received a 10 percent cut. Those salaries were not fully restored to their previous levels until 2014. Supporters also noted that International President Jones had averaged around 2.5 percent in salary increases over the last five years when considering the pay cut.
IP Jones cast his vote for the Law Committee recommendation, saying that he would have abstained from voting had the proposed amendment not impacted staff. Other International officers echoed those sentiments. As the roll call vote unfolded with strong support for the Law Committee position, delegate Ludwigson withdrew his amendment, and delegates overwhelmingly adopted the Law Committee recommendation.