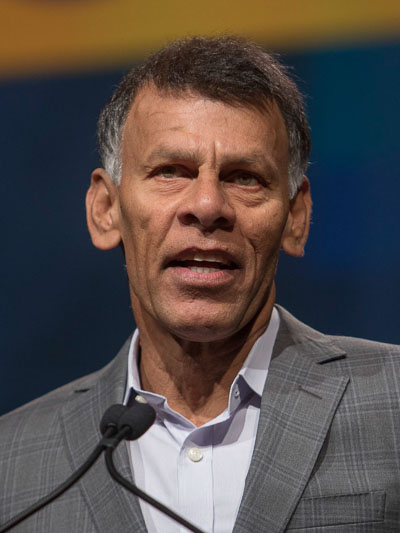 CANADIAN LABOUR CONGRESS President Hassan Yussuff took the stage Tuesday morning to update delegates on the Canadian Labor Movement's recent gains and its current battles.
He said the election of new Prime Minister Justin Trudeau, leader of the Liberal Party, was a significant win for the CLC after nine and a half years of a right wing conservative government. "We put up with their torture and tormenting," he said.
Other positive changes, Yussuff noted, included a 2015 Supreme Court ruling giving Canadians the fundamental right to strike and another ruling declaring workers have the right to choose a union free of intervention. "What a powerful message about how important unions are in our country," he said.
Yussuff spoke about several battles in which the CLC is engaged, including Bill C-377, which passed just before the election of the new prime minister. The bill dictates onerous public reporting rules on union finances, including funds spent on political activities. Yussuff said unions would not provide financial information "to our enemies. It's an unjust, undemocratic law in our country."
Another battle is over is the Trans Pacific Partnership trade agreement. "It's destroying jobs. We are doing everything we can so that it's not ratified in Canada," Yussuff said.
Other issues involving the CLC include a national ban of all asbestos mining and a favorable temporary worker program.
Yussuff closed with a continued call for solidarity between Canadian and U.S. labor. "There may be a border that separates us," he said, "but as working people there is no separation. Borders don't divide us. Our values are the same," he said. "We believe in fairness and equality and social justice for all working people."