Guest speakers address "persuader rule," common challenges
AS THE 33RD Consolidated Convention wound down on July 21, Convention Chairman Warren Fairley (IVP-SE) led delegates through the final day's business and activities, including committee reports, guest speakers and closing remarks by International President Newton B. Jones.
The Labor Department's Michael Hayes, Director of the Office of Labor-Management Standards (OLMS) addressed the convention, focusing on the "persuader rule," a regulation that seeks to require employers to report the use of consultants for union-busting activities. The rule, which has stalled in the courts, could be a game changer for union organizing.
Carlo De Masi, General-Secretary of the Italian Federation of Electrical Utility Workers (FLAEI), spoke about the common challenges faced by the Boilermakers and his union in confronting economic forces and industry issues, as well as potential opportunities for Bank of Labor. De Masi said that, as in the United States, climate change and environmental regulations are causing the shuttering of coal-fired power plants in Italy.
IP Jones calls for 'more nimble' union in closing speech
IN HIS CLOSING address to the 33rd Consolidated Convention, International President Jones spoke about change and the need for the Brotherhood to quickly adapt to external forces.
He said that Boilermakers throughout history have made the necessary transformations in response to technological and economic challenges as well as world events.
"All of these transformations occurred against the backdrop of change," he noted, "but today, the pace of change has accelerated and become more global in its reach. So we Boilermakers must now be more nimble, more creative and more willing to think outside the box — and we are doing exactly that."
President Jones went on to highlight major initiatives taken by the union, among them: involvement in the IndustriALL global union, legal challenges against devastating EPA regulations, programs to build market share in the construction industry, online education and training systems for apprentices, a major educational conference for Industrial Sector members, expanded organizing resources, a Canadian foreign worker program, and the expansion of the Brotherhood's bank into a bank for all of organized labor.
"We are problem-solvers, builders and makers of things," he said. "Society will always need our special and valuable skills."
Final remarks include call for National Funds video
DELEGATES TOOK THE opportunity on the last day to come to the microphones for final remarks, including a request that an educational video be created so members can better understand the operations of the National Funds.
Darrell Manroe, Local 83 (Kansas City, Missouri) stated that the primary reason why he ran for the International President's position was due to the confusion that he and other members have experienced about the various funds. Manroe made a motion that a film be made to address the problem.
International President Newton B. Jones seconded Manroe's motion and said, "We are already on this, and we are working with our partners in the trust funds."
IP Jones made it clear that he can only advise the fund trustees; he cannot dictate to them what to do. "We have to work with those boards . . . to make it happen," he said.
He added that a video is already under way that will illustrate how the family of Boilermaker organizations function and relate to one another, and the various functions and responsibilities of local lodge officers and stewards.
John Fultz, on special assignment with the National Funds, recalled that a number of years ago the National Funds Office was struggling because of management issues. Fultz said he was directed by IP Jones to investigate and fix the problem.
"We've had major transitions to the Boilermaker National Funds in the last four or five years," Fultz said. "We are [now] at the place where we're supposed to be. We've got a smooth operation going," he observed, praising the collaborative efforts of labor and management trustees who are responsible for the funds, as well as those who administer them.
Fultz said he would present the proposal for an educational video to the fund trustees during a joint board meeting in September.
Poet, teacher receive recognition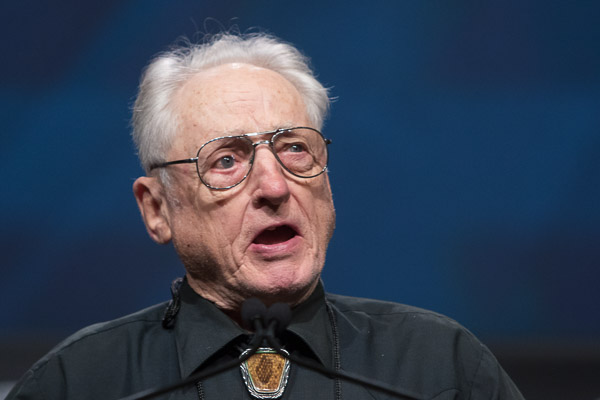 Don Rojem, Local 169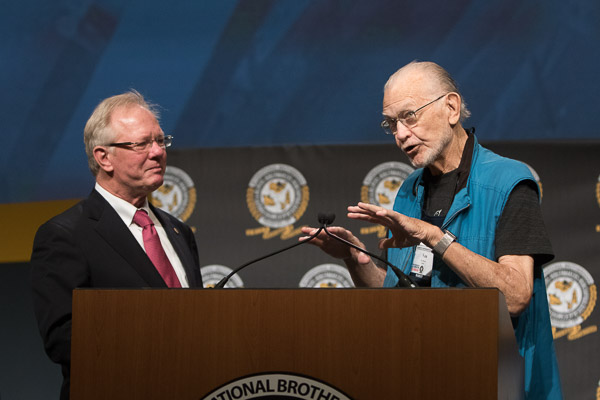 Van K. Brock, right
 
TWO SPECIAL GUESTS took the stage in the waning moments of the convention. Retired member and poet Don Rojem (Local 169, Detroit), entertained delegates by reciting a poem he wrote. Rojem was also featured in one of the videos created for the convention and in a story published in the Boilermaker Reporter.
IP Jones also introduced Van K. Brock, his former college professor from the 1970s who taught creative writing and poetry while Jones was alternating between working the trade and going to school.
Brock told the delegates, "They say the definition of a poet is a 'maker,' and you're all makers."
With that, IP Jones wished all delegates safe travels and closed the convention, sine die (with no appointed date for resumption).