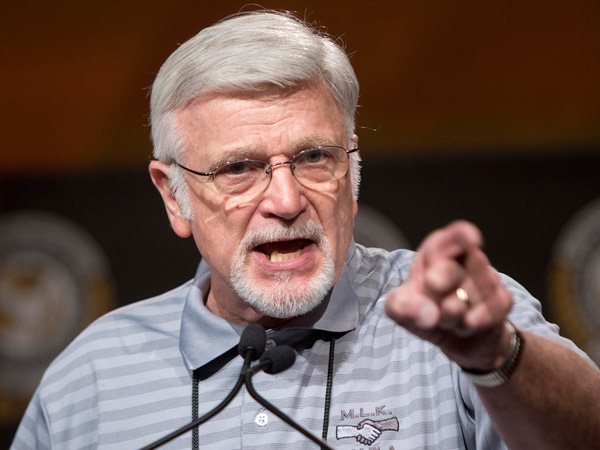 UMWA President Cecil Roberts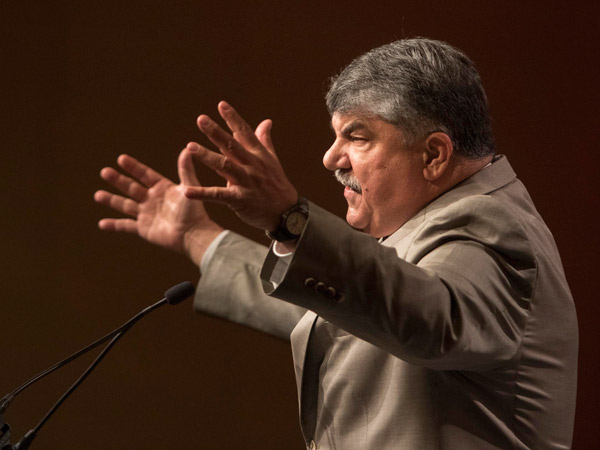 AFL-CIO President Richard Trumka
IN A FIERY SPEECH, United Mine Workers of America International President Cecil Roberts drew on biblical verses and his background as a coal miner to describe the plight of the working class in a nation where unions are under attack, the middle class is shrinking, and the divide between the ultra rich and everyone else continues to grow.
"They tell us America is a nation of the people by the people and for the people. But it's of the money, by the money and for the money," he said.
"It's our challenge to make this government once again work for the people." He laid out a five-point plan for change, first calling for a trade deal that protected American workers instead of hurting them, as has happened over the last 40 years.
Roberts called for working Americans to be paid a living wage, not a minimum wage; an end to discrimination in all of society; and single-payer health care for every citizen of America. Lastly he called for government to "give us back our God-given right to belong to the union we choose."
He ended with a challenge to delegates: "This is where you come in. It's not what we do here today. It's what we do when we leave here. What are we going to do?"
AFL-CIO President Richard Trumka opened his afternoon speech with comments about the importance of the Bank of Labor. "Sometimes we run across people who don't understand why we have a bank," he said. "Money is just like anything else. It can be organized as a tool for us, or a weapon against it. When we don't use it as a tool, our enemy uses it to beat us down."
Trumka called to task the politics of the one percent, including the presumptive Republican nominee for president, Donald Trump.
He said for years Wall Street and the Washington elite have tried to paint labor as against trade, but it is not. "What we refuse to do is allow another trade deal to be shoved down working people's throats." Through the combined strength of the unions, the Trans Pacific Partnership has been "kicked to the curb."
Labor has seized momentum within the political landscape, he noted. "That's why it's growing among women, young people, anyone working for a living. We're expanding our democracy by registering hundreds of thousands of new voters."
Trumka said that working Americans deserve a bigger piece of the pie and they can't quit fighting to get it. "It's up to us to change things. We'll fix what's broken. We'll heal through solidarity. Together we'll create a better tomorrow," he said.