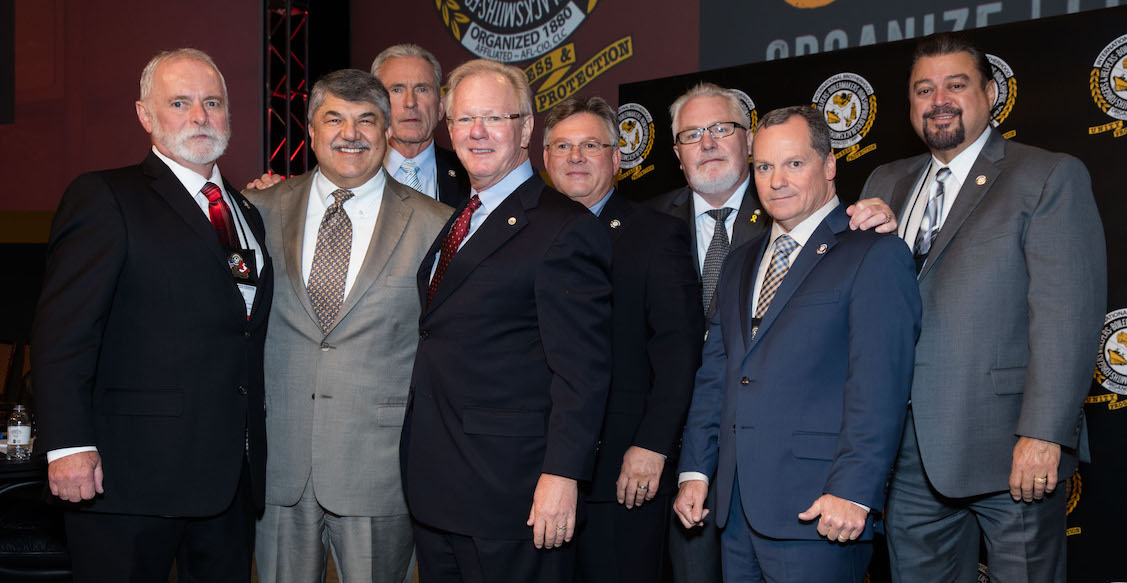 THE PROVEN LEADERSHIP TEAM WON RE-ELECTION ON THE FIRST DAY OF THE 33RD CONSOLIDATED CONVENTION.
 
DELEGATES TO THE 33rd Consolidated Convention returned all International officers to their leadership positions Monday afternoon. The incumbent officers ran as The Proven Leadership Team slate.
In the first election, Newton B. Jones won his third full term as International President Monday afternoon. Jones drew 87 percent of the vote, 44,520 to 6,571, to defeat Local 83 (Kansas City, Missouri) member Darrell J. Manroe.
In the three other contested elections, International Secretary-Treasurer William T. Creeden received 86 percent of the vote, 43,794 to 7,297, to defeat L-104 Business Manager/Secretary-Treasurer Brian Opland; International Vice President – Canada Joe Maloney received 89 percent of the vote, 45,217 to 5,512, to best Local 359 (Victoria, British Columbia) Assistant Business Manager Ken Noga; and International Vice President – Northeast Dave Haggerty received 95 percent of the vote, 45,677 to 2,320, to defeat Local 29 (Boston, Massachusetts) President Mike Hancock.
Three International officers faced no opposition and were elected by acclamation, with IST Creeden casting the vote. They were International officers Larry McManamon, IVP-Great Lakes; Tom Baca, IVP-Western States; and Warren Fairley, IVP-Southeast.
In his post-election thank-you to the delegates, IP Jones noted, "I have never seen a set of officers that have performed together the way this Executive Council has. I'm proud of them, and you have shown that you are, too." AFL-CIO President Rich Trumka swore in The Proven Leadership Team.